Yesterday, as we well know, was a 'National Day of Action to Oppose the SPP' - While the major activity was in Ottawa Valley resort town of Montebello, Quebec where the Three Banditos held their North American Summit, events were held across the country in opposition to the secretive political-corporate discussions and study groups proposing a more extensive economic integration of the three North American countries.
I attended a rally in Vancouver which took place in the area on and near the front steps of the Vancouver Art Gallery on Robson Street.
Now available in Orange!
The rally was the second of two events taking place that day, the other being an assembly and march from Canada Place on the Burrard Inlet waterfront to the Art Gallery.
While I did not attend the 3:00pm march, you can read a summary and view pictures here. The march was organied by the local activist organization No One Is Illegal.
The protest route brought the loud and boisterous crowd first to the offices of Manulife Financial Canada where group leaders intended to enter the lobby and send a message about their displeasure to one of the Canadian participants in the negotiations, CEO Dominic D'Alessandro.

As the protestors attempted to enter the lobby, building security staff blocked the doors and a scuffle ensued between police, security and many of the protestors attempting to force their way in the entrance.  Though there was a lot of yelling, pushing and shoving the police showed restraint as they forced protestors out into the street.  No one was hurt and no arrests were made.

The march went on to loud but uneventful stops at the Mexican Embassy, the US Embassy, the Canadian Armed Forces Recruiting Center on West Georgia, the offices of Bell Canada to signal discontent to Michael Sabia, another Canadian representative on the thirty person S.P.P. panel, and then to the main offices of Scotia Bank where a stink bomb was set off in the lobby.  Rick Waugh of Scotia Bank is another Canadian representative participating in the process
Would seem then that the march was a much more raucous affiar than the Art gallery rally which began around 5:30pm. I arrived there just prior to the march's arrival.
The Art Gallery rally was organized in tandem by the local chapter of Council of Canadians and Vancouver's anti-war coalition Stopwar.ca. Other groups in attendance including representative from labour coalitions, aboriginal groups, and members of the local Mexican community supporting the Zapatista resistance.
I would estimate the crowd to be in the neighbourhood of 600-700 people.
In comparison to both the protests in Montebello and the images from the local march, the rally was a rather tame and peaceful affair.
Alison from Creekside (and The Galloping Beaver) attended both teh march and rally. Seems she had the same assesment. Of the march:
..the police were exceptionally well-behaved, staying well back from the protesters at all times ... except for those incidents where they were called upon to evict protesters from the lobbies of NACC businesses enroute.
And of the rally:
In fact everyone was well behaved. So very Lotusland of us.
At one point during speeches outside the Art Gallery, I did see a very intense little huddle around two people on the ground under a chestnut tree so I went over to see what was going on. Just as I got there someone called out "Checkmate" and the little crowd dispersed.
Yes, this was not an APEC protest or a G-8 summit type of protest. Having experienced a few of those I did not expect one.
There wasn't much of a police presnece, and honestly, I did not expect much of one. Maybe six motocycle cops blocking off either end of the block of Robson between Howe and Hornby. A bit of incovenience and bother to traffic and bus commuters. I did notice that Coast Mountain Transit buses were stopped and lined up down Robson to near the corner of Thurlow. Shoppers, strollers and business people would occasionally stop to gawk and then wander off.
Oh, we did have two other law enforcement types, though not in close proximity to the event. They were standing on top of the roof of the big Sears outlet at Robson and Granville, obviously filming activities. Let's just saythey were hardly inconspicous. Most of us waved, most of us with five fingers. Heh!
So, they likely have my bearded mug somewhere. They likely have had it before. I already know they have my fingerprints.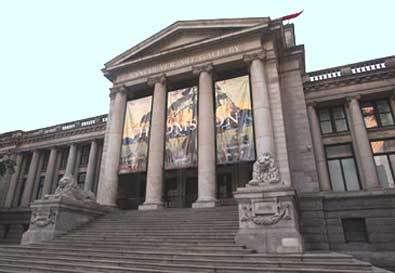 The centrepiece on the steps of the art Gallery - and if you're an architecture buff the Vancouver Art Gallery, which was the former Provincial Court House, is a scaled down replica of the famous New York Public Library in Manhattan - was an effigy of the 'Three Banditos' behind a security perimeter/fence (dang, I should have brought a camera). Georgie Boy was the largest of the three looking like a giant pinata puppetmaster. Our 'Stevie' dangled below held by Bush's puppeteer's string, while Senor Calderon was seen clutching and holding on to Bush's right leg. They were being looked after by 'Gary, The Secret Service Man' (nice touch).
Both Council of Canadians and StopWar had info tables set up at either side of the portico. Picked up some reading material and a handful of 'Integrate This' stickers.

You know how protesters are stereotyped in the media? Wild-eyed, foaming at the mouth, radical anarchists? We may have had a few there. Dunno, everyone looked pretty normal to me, but then my concept of normal is most people's weird.
A truly diverse crowd - young, old, labour activists, aboriginal activists, Jews Against War, families, even some of the 911 Truth people - it takes all kinds - and FSM bless them, The Raging Grannies. 
I had a short chat with one woman (not a 'raging' granny) who must have been in her 70's who told me of her family's radical activist heritage. Her parents, her grandparents, her great-grandparents were all activists. Wow!
The events schedule featured a number of speakers, all bright and well-spoken, who did a terrific job of tying all the disparete viewpoints together in relation to globalization - aboriginal rights, workers rights, immigrants rights, anti-war activism etc..
Among them were
- Charlie (sorry didn't catch the last name) from StopWar and Carleen Pickard from the local Council of Canadians chapter, who were the main rally organizers
- An aboriginal representative who name unfortunately I can not recall
- Francisco Juarez, a former Canadian Armed Forces reservist who refused to serve in Afghanistan.
- Harsha from No One Is Illegal
- Former Vancouver City Councillor (from the Larry Campbell team, 2003-2005) Ellen Woodsworth who read a text message from Council of Canadians head Maud Barlow and NDP MP Libby Davies about how they were, despite prior arrangements, prevented from delivering to a 10,000-signature petition from Canadians opposed to the SPP process to the gates at Montebello. 
The Raging Grannies sang. Wonderful satire.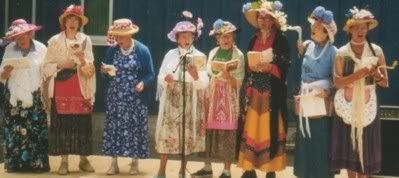 And for the finale, Shrubya spoke to the crowd. A hilarious edit of several speeches put together by StopWar.ca. Everyone booed loudly and it was over. The whole thing lasted about an hour and a half.
I can't leave this thing without a bit of meta.
Was it worthwhile? On a personal level, yes. I'm doing something, not being apathetic. Apathy = defeat.
In the grand scheme of things, likely no. I mean that in the sense that the world wasn't changed in any grand fashion by our presence or our activities.
There were likely no opposing minds changed by anything we did or said or heard. Media coverage, as expected, would be brief. But it is exposure.
But, anytime I attend a rally like this questions of validity rattle through my mind. Do these types of protests have any real meaning in today's world. Are they effective? Do they have any real meaning anymore?
If we look back to the era of civil rights marches, and the anti-war movement of the 60's and 70's, those were things of positive which did have a significant impact and helped push things forward.
Today, it's so much more difficult. I'm no different than most, if not all, of us. We have busy lives, we're dog paddling furiously to keep our heads above water one or two paycheques from being out on the streets. We're bombarded with media unimagined 40-50 years ago. People are easily distracted by shiny things (Ooooh, Britney! Lindsay! Brangelina!).
But also isn't what we do here, and at other places like Daily Kos, a form of protest? A way of getting information out? Does it have value and meaning?
We're here, we can think for ourselves, and hey, have you heard of this? Did you know that? If you touch just one person and turn then on to something is it worthwhile.
I sincerely don't know if that was happening at the rally yesterday. It may likely have been a 'captive' audience already aware of and familiar with all that was expressed and articulated. But I did have that feeling of getting somewhere and letting people in on things via pale excellent DKOs diary. It felt good, nay great, to witness the illumination of some already very bright minds. A sense of accomplishment, though they are but baby steps. But people are going to run and do things with that information.
So, I leave you with a question and ask for your thoughts.
Are political protests still meaningful to the public discourse? Do they mean anything to you?