The Winnahs!

Grab a Blog Badge! Current size is 200px.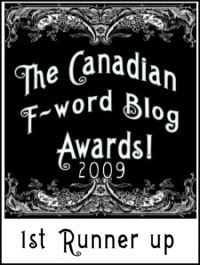 Nominations graciously accepted from April 1-8th 2009
First voting/elimination round: April 11-12 14th!!!

Final Vote: April 18-19
Winners announced April 25th

Progressive politics only, natch.
Nominated blogs must be women authored, or be a majority of feminist content, and with the exception of the International category, Canadian.
Nominate as many blogs as you'd like - the CFWBAs are a celebration and promotion of feminist blogging in Canada. The more exposure the blogs can get, the better.
Nomination of your own blog is perfectly acceptable.
Nominations for posts and comments categories, will be eligible if they were written between December 31, 2007 and February 28, 2009. ( we are a tad later this year)
Administrators (Pale, Prole, A Creative Revolution) are ineligible.
Notice to the trolls: These nominations are for Progressive Feminist blogs, bloggers and comments. Anything NOT fitting those qualifications will be deleted. Fair warning. Take yer freedom uh speech elsewhere. I think there's a Freedominion poll somewhere you can freep.
Blog Buttons!!! Please help us promote the FWords by putting a button on your blog! For a static button like this: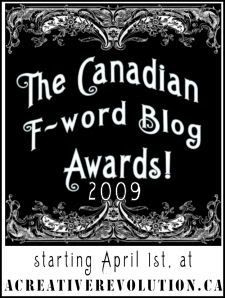 Animated gif button like this:

Best Feminist Blog - Oh!Canada! English
Le meilleur blogue feministe canadien - en francais
Best Feminist Blog-International
All from a feminist perspective:
Best Political blog
Best Personal blog
Best Media blog
Best Reproductive liberties blog-english
Le meilleur blogue canadien sur les libertes *** - en francais
Most Regressive Progressive
Support Bro
Why the f&ck didn't I say that? award.
The Rabid Fox Award, In Honour Of Heather Mallick, this years recipient
MSM-Most Sanctimonious Misogynist in the media
**In order to resolve any issues that may arise, the 2009 F-word Awards has retained a secret cabal of experts on feminism. Their qualifications are to remain secret. Their exact numbers are also secret. You will not be able to reach them via phone, email, or Canada Post - their contact information is secret. If you disagree with their judgement, that's tough - they have the final say in all matters in and around the 2009 F-word Awards. If you suspect their very existence is a sham, I'm sorry but you'll just have to trust us. Cause we said so!