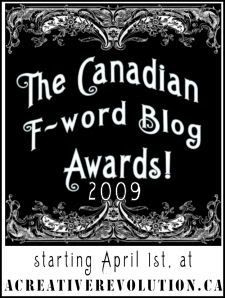 The finalists for the F-Word Blog Awards are…..(And in completely random order.....I'm a sadist...)
Categories with a clear winner, do not appear in this list.
Best Political blog:
Best blog Oh Canada!
International Best blog:
Best Media blog
Best Personal blog-there was some CLOSE ones....(so this one is a large finalist list- Secret cabal ruling)
Pregnant Drug Dealing Prostitutes
Reproductive Liberties blog
MOST Regressive Progressive

Michael Ignatieff
Support Bro
James Curran @ What Do I Know Grit

Pretty Shaved Ape @ Canadian Cynic

MSM- Most Misogynist Media
Jonathan Kay, National Post A FAMILY AFFAIR! (This would be such a nice tie situation.....They could be like tag team wrestlers of Misogyny...)
Come back starting April 18 until midnight on the 19th for the Final Vote!