This is a story that the BC government would rather you didn't know.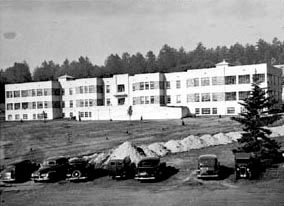 Just in the last few days, the BC government has agreed to pay compensation to some former residents of the Woodlands Residential school.
A compensation deal has been reached with the B.C. government for some of the residents who were abused at the Woodlands Residential School in New Westminster, but many former residents are being left out in the cold.
Many students at the school for the mentally disabled suffered physical, sexual and emotional abuse before the centre closed in 1996.
But it has also shut out many others who were victims of the systemic abuse if their incarceration was before 1974.  
The history of the Woodlands Residential school is long and dark and violent. Like the stories from the survivors of the Native Residential schools, incredulity is a common response.
But like the Native Residential schools,  the evidence does coroborate the many accounts from former residents/victims. 
McCallum's review, completed in August 2001 and released by the province in July 2002, found widespread sexual, physical, and emotional abuse of children at Woodlands, as well as unexpected and uninvestigated deaths. The physical mistreatment included "hitting, kicking, smacking, slapping, striking, restraining, isolating…very cold showers, very hot baths resulting in burns, verbal abuse, extended isolation, wearing shackles, and a belt leash with documented evidence of injuries including bruising, scratches, broken limbs, black eyes and swollen face".
Woodlands survivor Gary Hill told the Straight of a nightmarish practice: "Lots of kids had all their teeth pulled so they couldn't bite staff.…After I left Woodlands, when my dentist was working on me, he said my mouth looked like they used a shovel."
It is hard to find a lot of media information, the Georgia Straight has been following and updating this story for years.  A little history about the "school" first:
Established on the New Westminster cricket pitch in 1878, the Public Hospital for the Insane was a castlelike fortress overlooking the B.C. Penitentiary and the Fraser River. In 1950, the B.C. government, which ran the facility, decided to separate disabled children from adult lunatics (who were sent to Essondale), and the institution was renamed the Woodlands School. Woodlands became home to the province's unwanted kids.

Babies abandoned at birth in hospital, the hyperactive, the epileptic, the intellectually challenged, the disabled, wards of the court, and children displaced by the closure of Vancouver's orphanage all lived within its walls and cottages.
For the very sanitized all was-wonderful-nothing-to-see-here-land-developer version go here.
A catch all for all children whose disappearance was desirable to a society that simply did not want to deal with them.
It also appears as though there was perhaps another more profitable reason to hold so many children as prisoners, made helpless after being declared "mentally insufficient".  And perhaps a good reason for the BC Government to keep it all very quiet.
BTW, keep in mind that some of the current BC "Liberals" fled from the BC Social Credit party which was in power in almost an unbroken run (NDP was in power from 1973-75) from 1952 until 1991. 
Despite McCallum's report and horrifying statements by former residents in news reports, on November 24, 2005, Children and Family Development Minister Stan Hagen told the legislature—in response to a query from Opposition critic Adrian Dix—that the government "disagrees" that there was "systemic abuse" at Woodlands.

Hagen also neglected to mention that Woodlands children were used in genetic research and drug experiments for more than 30 years. Between 1954
and 1978, almost three dozen research papers, including drug studies, were published by the then–medical director of Woodlands, Dr. Bluma Tischler. Research continued until 1986.
When I was reading the first story about this proposed settlement today, I recalled something in the recesses of my brain...A ghost story of all things.  I happen to have a book on BC ghosts here in my ecclectic book collection, so I was able to find the reference pretty much right away. From Ghost Stories and Mysterious Creatures of British Columbia, Sidewalk spectres.
In 1985, as the story goes, the owner of an apartment house in Coquitlam BC,  embarked on a "beautification" project.  He purchased 130 stone slabs, and used them to make a nice pathway.


The residents of the apartment building say they noticed things start to happen just after that. I will not speculate on that part. But it was discovered later by someone who pried up one of the stones, that they were headstones. They were reported to have come from the Woodlands Hospital Cemetery. 

Kinda screwy and obviously an urban legend hey?
Maybe not so much. I looked deeper as always. I found the actual report prepared by Dulcie McCallum, the one I referenced just above there.
This is included in that report:
Government needs to be cognizant of the fact that the graveyard at Woodlands was dismantled and the headstones were used to construct an outdoor section of stairs and patio. The ground where the headstones were located prior to being removed remains intact. It is presently identifiable as a graveyard by a simple plaque and is located behind the Willows Clinic. Some of the gravestones can be located. The actual plot has otherwise not been disturbed except that people have been known to walk across it. The facts surrounding the dismantling of this graveyard have gained some notoriety and are known to many longstanding employees of government, former residents and families and advocates. Why this was allowed to happen is not clear.

Government should be alerted to the fact that for many people this dismantling of the graves is indicative of the lack of respectful treatment afforded the residents while alive.
Some of the residents who may have been the victims of abuse have died. Given the long period of time during which Woodlands was operational, many residents died on site. There were cases documented of untimely and unexpected deaths of residents, which could be accurately characterized as resulting from neglect – understaffing, poor equipment, and inadequate personal care and attention. The terms of reference of this review did not extend to neglect unless of such a magnitude as to fit within the definition of physical abuse.
However, the Ministry should be aware that as the second phase proceeds, additional information about the psychological and physical neglect or maltreatment could surface.
The graves were dismantled in the 1970's. The Government took control in 1974.
Another article:
From 1926 to 1957 an estimated 3,000 people died in Woodlands, a provincial government institution for the developmentally disabled. If the bodies of those who died in care were unclaimed, they were buried in the graveyard. After 1958 the unclaimed bodies were sent to the University of B.C., where they were used as cadavers.
When the Woodlands graveyard was dismantled in 1976, some of the grave markers were used in a barbecue patio used by Woodlands staff, while others were found in a retaining wall that lined a nearby creek. It's believed some of the concrete markers were hauled away and used in other construction projects.
So. I have will not speculate on the ghosts. But I think the story about the stone walkway is entirely plausible at least.
How many died after 1958 and were shipped to UBC? I cannot find any mention of that. How many children were killed by abuse or neglect, that ended up as a medical cadaver and will never ever be known? Were there burials after 1958 that were not reported?
And now, about those victims being shut out of any settlement from before 1974. The Government insists that it had no control before that, so it is not their problem.
If the knowledge of, and not acting on it through official means was not in their control....
The government even had shocking stories from Woodlands in its hands 45 years ago, when Victoria RCMP inspector H.F. Price sent lengthy and horrific reports about abuse and thefts at Woodlands to B.C.'s deputy attorney general, Gilbert Kennedy. Those reports were never released, and a freedom-of-information request finally yielded about 50 pages with all names deleted–including a November 2, 1962, sworn statement by one Woodlands aide.
You better believe they should pay. Another crime against humanity. According to the BC Liberals? Not their problem, just something the BC Socreds decided to sweep under the carpet for 30 years.
How many of the Abusers are still alive and will never have to face their victims? Justice?
Not for those who were thrown away to be abused and used in medical experiments.
As for the ghosts? I do think they are real in a sense, and this should haunt every one of us every day.
Like the Native Residential schools and all the children that perished there.