I have a story to tell you.
It's something that I have been sort of following the last couple years, and with a new development this week, it's made me even more leery. Questions....
In March of 2006, I read this story on the CBC site: Cancer rate in Fort Chipewyan cause for alarm: medical
examiner
Northern Alberta's medical examiner has requested an investigation by Health Canada into the unusually high rate of cancer and immune diseases in Fort Chipewyan.

Dr. John O'Connor, a physician and medical examiner for the remote northern community, says the population of 1,200 has been disproportionately affected by a high number of both rare and common cancers.
The rare cancer normally affects 1 in 100, 000 people. In the small village of Fort Chipwyan, population of 1,200, there have been 5.
*blink*
In a community that size everyone knows everyone, they are often related. They shop at the same places, they socialize together. Everyone knows someone or a few people that have died, or they are survivors themselves.
Health Canada acted swiftly on Dr O'Connor's alert . They acted swiftly to censure him for causing "undue alarm."
How's that for protecting the public health?
Luckily the townspeople backed him up 100%, and then another ally came into play:
The Alberta Medical Association has passed a unanimous motion supporting a doctor at the centre of an environmental controversy in northern Alberta.

In February, Health Canada officials filed a complaint against Dr. John O'Connor, who raised concerns about high rates of cancers and other illnesses in a community downstream from Alberta's oilsands developments.

Dr. Gerry Keifer, the Alberta Medical Association's president, said Monday that doctors have a right to voice concerns.
Love the title here too: "Alberta doctors support outspoken peer." Not "Alberta doctors stand up for patients"
So a study was ordered...And it was released in July 2006
Fort Chipewyan does not have higher rates of cancer or other diseases than other parts of the province, an investigation by the Alberta Cancer Board has concluded.

However, long-time residents of the remote northern community of 1,200 remain unconvinced.

"All their data might be incomplete. That's the problem. I think it needs a very intensive study, not just a superficial glance," said John Rigney, who has cancer.
All is well they were told, even though the Alberta Cancer board even admitted they didnt have the full data to work with.....
Dr. Yiqun Chen, the head of disease surveillance at the Alberta Cancer Board who did the initial research in the investigation, told CBC News on Tuesday she did not have "the complete data set for 2005, and less complete for 2004" when she reached her conclusion.
However, a spokesperson for Alberta Health said the department recognized the problem and reached its conclusion after cross-referencing other databases to look for unusual cancer cases.

Cancer rates not higher in Fort Chipewyan, investigation
concludes
What did they cross reference with? The Love Canal? (My tin foil hat fits just fine, thanks!) But that brings me to this article in The National Review of Medicine dated March 2007, that uses a report from the previous April 2006, that says the exact opposite....
This Graphic is not too clear, but the blue slopey line is Fort Chipwyan, and the red one is Alberta.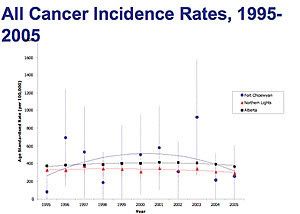 This was the text that appears under the original:
Elevated cancer rates in Fort Chipewyan support Dr O'Connor's claim
From Fort Chipewyan Health Data Analysis by Alberta Health & Wellness and Alberta Cancer Board, April 2006
If you have time, please read this link. Some interesting stories of intimidation and firings in Alberta for whistleblowers and those who refuse to tow the line....The line in the tar sands.
It's a similar scenario to what had me fired in 2002 for speaking in favour of ratifying the Kyoto Accord in the interest of public health," said Dr David Swann, Liberal MLA for Calgary Mountain View, on his blog. Dr Swann was medical officer for the Palliser Health Region at the time he got the axe.
All of that is enough to smell to high heaven. I was pretty irked and sumarized some of the developments in March 2006 like this....
Kudos to The Alberta Medical Association for supporting a Dr who is only trying to make things better for his patients, and a Fustercluck award to Health Canada for taking its directions not from people it is supposed to serve and protect, but from its Conservative-big-oil mandated masters in the PMO's office.
But lo' and behold, there's been another development, a couple days ago.
CALGARY, Alberta (Reuters) - A small aboriginal village downstream from Alberta's massive oil sands plants is calling for a moratorium on new projects in the region after a study found high levels of heavy metals and carcinogens in its fish and drinking water.

The village of Fort Chipewyan, Alberta, a one-time trading post on the northeast shore of Lake Athabasca with a population of 1,400, says oil sands developments may be responsible for rare types of cancer in the community, poor water quality and other health issues.

The village is about 260 kilometers north of Fort McMurray, the Northern Alberta oil sands hub where a number of projects mine the richest petroleum deposits outside the Middle East, creating toxic pollutants as part of the process that converts the tar-like bitumen stripped from the sand into synthetic crude oil.
Im betting that you know what the Alberta Governments response is going to be, right?
Alberta Health Minister Dave Hancock said the provincial government has only seen a draft of the study but its preliminary view is that the study is based on old data. He cited previous claims about high arsenic levels and the cancers in the area that the government found to be overstated, though he added the province would review the work.

"We take it very seriously," Hancock said. "But we haven't seen the report in its final form or had time to analyze it."
Now, I would love to see this actually studied. Properly. Then if it's not really true, no harm done. But it seems to me that that just ain't gonna happen. And let's not kid ourselves, there is way too much money involved here. So the "facts" will be "old data" and "cross-referenced from other databases", because how it looks, on the surface? Is not too good for the Oil Patch.
And we all know that Money trumps Humanity and quality of life in the Oil Patch.
Politicking with the public health. Get used to it.